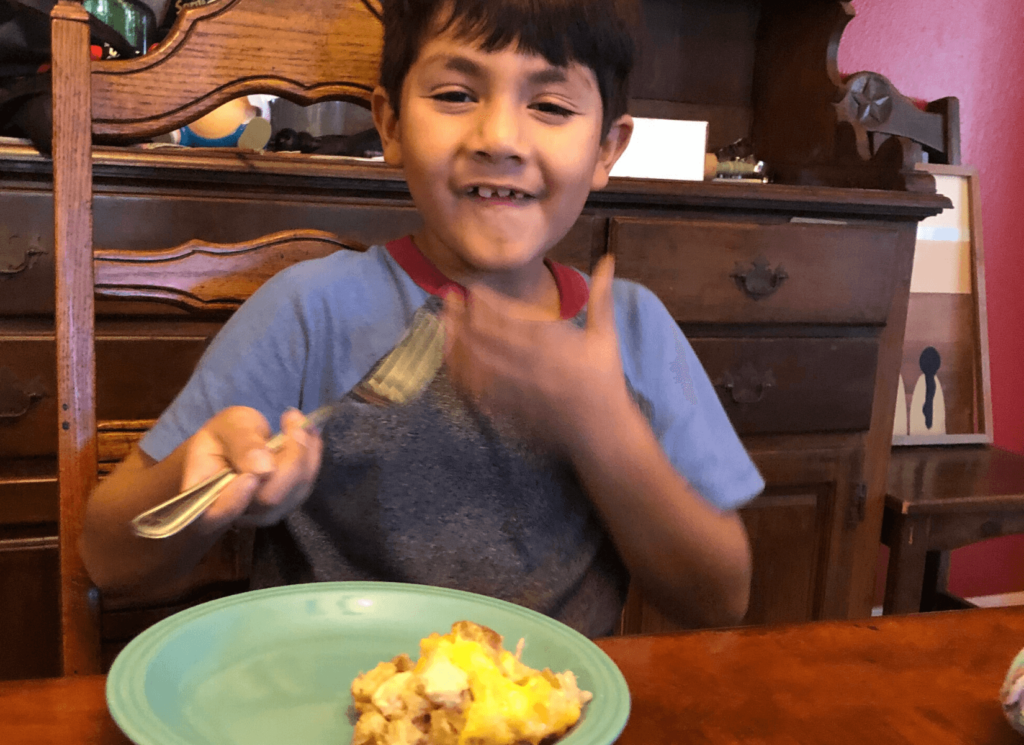 Aunt Sue's Chicken & Stuffing Casserole
Aunt Sue's Chicken & Stuffing Casserole
This tangy Chicken and Stuffing Casserole, comfort food is one of our family's favorites!  It is easy to make, freezes well and is one you'll want to make your family go-to too!
My Uncle Dennis' wife Sue gave me one of my beloved gifts for my bridal shower.  It is a writable cookbook.  In it, she added her favorite recipes.  Since then, I have added many more.  The pages are worn and it is filled with all the delicious and memorable things I love to cook and serve.  And! This is one of my favorite gifts to give to new brides.  I love the personable touch of handwriting, and who better to pass your recipes to than a new bride!
I recently followed my Aunt Sue's lead and started filling the pages of a writable recipe book I found on Amazon.
All of my launched babies are passionate cooks.  Both of my sons cook nearly every day!  The Marine baby is a huge fan of crockpot casseroles and stews.  While the Hippie baby actually does the majority of cooking at the ashram where he lives and teaches.  Believe it or not, he was able to make my Mormon Funeral Potatoes… completely vegan.
I don't know, don't ask.
But I am slowly making them each one of these handwritten cookbooks, and of course, it will include this delicious Chicken and Stuffing Casserole!  
To get started you'll need to boil some boneless, skinless chicken breast.  Set aside 2 cups of the "chicken water" and add chicken bullion cubes.  I use Knorr Chicken Caldo cubes, simply because, in my opinion, it is hands down the best flavor.   And then, let the chicken cool and coarsely chop it.  For the rest of the recipe, see the directions here!
Aunt Sue's Chicken and Stuffing Casserole
Yield 6-12
You are just going to fall in love with my Aunt Sue's Chicken and Stuffing Casserole – a family favorite, comfort classic!
Ingredients
4 cups cooked chicken breat (boil 3-6 chicken breasts)
3 Tablespoons butter
2 cups chopped celery
1 medium chopped white onion
4 cups cubed stuffing
2 cups of mayonaise (never Miracle Whip… for the love)
3 Tablespoons fresh lemon juice
2 cups chicken broth
1/2 teaspoon of salt
2 cans chicken and rice soup
1 cup sliced almonds (OPTIONAL see notes)
2 cups shredded cheese
Instructions
Boil Chicken.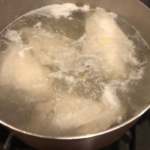 Save 2 cups of chicken broth, add chicken bullion cubes per your brands instructions.  Chop onion and celery and saute in butter until tranluscent. Coarsely chop chicken.  In a large mixing bowl add all the ingredients.  Except for cheese.  Stir until well combined.  In a 9×12 casserole dish, add the mixture.  Top evenly with cheese.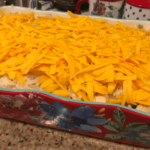 Cover with foil and bake for 45 minutes at 350 degrees.  Remove foil and continue baking until cheese is thoroughly bubbly.  Let stand for 10 minutes before cutting.  Enjoy!
Notes
*we have a nut allergy in our home, I don't add this and have never missed it)
Of course, this delicious Chicken and Stuffing Casserole got cut into before a snapped a final beautiful picture!  But Sam scarfing it down is good enough for me!