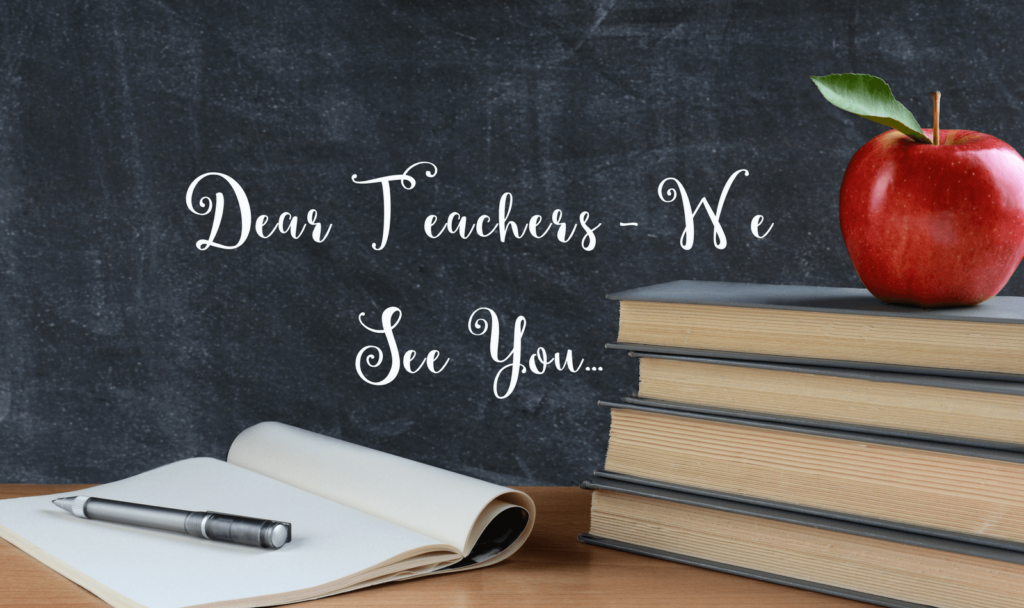 Dear Teachers, We See You… Thank You for all You Do
Dear Teachers, We See You… Thank You
As I drug myself out of bed this morning, after two days with the black plague, you came to mind.
I sat with my Bible, journal,  and my favorite purple pen and words began to pour. Please know, I see you, and He does too.
It has been many years since I took my oldest, now 23 years-old, out of the public school system to homeschool she and her learning disabled brothers.  Truth be told, I had a poor education, I barely graduated from high school. I wanted something different for them. I cherish those memories in my homeschool. But as the years rolled on and we birthed our young prodigy (seriously, she is creepy smart, if she didn't have my face I would think there was a mix up at the hospital) and then adopted and foster-adopted two vandals, I knew I was crossing the finish line in our home classroom.
In August, when we moved here, I enrolled Sophie at the high school and Sam at the neighborhood elementary.  It was both a glum and euphoric passage.
The first day of pick up was traumatic.
We arrived late to the district, and I didn't attend any informational meetings.  In the pickup line, I was asked where my "green card" was.  Confused, I remarked, "I'm from California?"  I was instructed to go to the office.  I wandered into the foyer where they asked for my I.D., which I did not have.  No I.D. and no green card… that's when they asked who my child was.  And at that moment it occurred to me, an I.D. or a green card might be needed.  I tried to explain that Sam was adopted and naturalized, but I wasn't sure that 6-year-old's needed green cards?
After we arrived home, sweaty and exasperated, my husband inquired, "What took so long?" and I whimpered, "Well, we were almost deported."
Alas, this was my first day as a mom in the public school system in nearly  18-years.
I am an old mom.
And I love this little school district, although I do question the use of green cards for pick up?  Was there a rush on green cardstock?  Cause I can pitch in and get y'all magenta or cornflower blue?
Aside from all that, I see these teachers and faculty members, and the ones at the high school and I am floored with admiration and gratefulness.
Last week at the elementary school, a delightful teacher, one we do not know by name, with a huge smile, a fun-fabulous wardrobe, and a genuine oozie love of her job was at her "pick-up line" post.  She held up a finger; two, three, four, letting each car know which place they would find their child.  As the year has progressed, she doesn't even read the green cards, fading in the hot Houston sun, she remembers who we are and is genuinely glad to be at our service.
I can read her lips as she speaks into the walkie-talkie, "SAM AMERINE FOUR, SAM AMERINE FOUR."  She signals me and flashes her honest smile as if we are old friends.
On this particular day, just as we passed her, she turned on her heels, and full on form fell, face down.  We were too far ahead to assist.  Others rushed to her aid.  By the time we passed her again, she limped, wounded and worn, obviously injured, back to the school.
All I could hope was, please know, we see you… and we are so sorry you got hurt.
The very next day, there she was, fresh as a daisy, gorgeous smile, and darling demeanor, she held up a finger; two, three, four, letting each car know which place they would find their child. Without warning, sun blazing,  a dark cloud crept directly over her and dumped an abnormal and obnoxious amount of rain on her.  Soaked to the bone, in what might be comical if it weren't so soggy, she limped back to the school, another day, another $1.75, in the life of a teacher.
Please know, we see you…. And we are so sorry you got drenched.
I have a Master's degree in education, I remember all the thoughts and hopes I had to change the world, to love children, and somehow make a difference.  Alas, I have little experience in the public school classroom as an educator, I taught the "original batch" at home through high school. For a season I taught them in a private classical school setting, and while it was a blessing, it was also much different than what you face, daily.
Please know, we see you.
As I watch Sam, just six years old wander into the school, his backpack nearly the same size as him, I see you each.  Your face lights up, and you call him by name.
Truthfully, I forgot his name twice before breakfast.
Yes, I saw you bend and tie his shoe… I swear I meant to do that too.
I think about how sick I was yesterday, and the day before, and I think about you.  Those of you who must, and can't afford to miss.  And I want you to know, I see you, and I am praying for your health and wellness.
I am in awe of your endurance and your commitment.  And I am most grateful that you know the names and struggles of these wee humans… and the teen humans, who smell less like peanut butter and jelly and more like armpit , too much Axe, Designer Imposter Perfume, and Clearasil.
To each of you, desperate for Spring Break, some form of gun control, and for the success and well being of other people's children… please know, we see you.
If it is of any comfort to be seen, then yes, I see you.  If it is of any more, please know, I pray for you too.  I pray that someone does something sooner, rather than later to protect you from madmen and crazies.  More, I pray you are healthy and strong. And, I pray your compassion only grows, and your love for this vocation blossoms, especially as you near the finish line and the clocks spring forward.
The cruelest of novelties. A clock that springs forward, robbing you of precious sleep and turning your students into stark raving mad subhumans.
[clickToTweet tweet="Please know we see you and we are thankful for you. #Teachers" quote="Please know we see you and we are thankful for you. #Teachers"]
I wish there was more to say to encourage and thank you.  How I wish I could meet each of you, and thank you in person.  Yes, I am certain there are days that are as thankless as a faceplant in the parking lot. Believe me, I know there are disgruntled parents and clueless lawmakers.  Some of your worst days are counted together to define you and some of your best days go unnoticed.
But know this, some of us see you.
Some of us believe you are the very best of what we can hope our children get a glimpse of and strive to be, someone just like you.  Some of us see you and look forward to that fresh grin and the comfort of knowing, you know our babies.  You believe in them, and you care what they know and learn.
We see you.
We are thankful for you… and we lift you up in prayer.
And I know with all my heart, He sees you.
I can bet He thinks you're pretty awesome too.
So thank you, I hope you get a raise and a nap… also, a bubble bath and chocolate.
Onward! Spring break draws near…. and thank you again.
May your hand sanitizer be full and your calling ordained.  Thank you… Love Jami
Behold, children are a gift of the LORD, The fruit of the womb is a reward. Psalm 127:3-5
You might also like:  The Meet the Teacher Fallacy