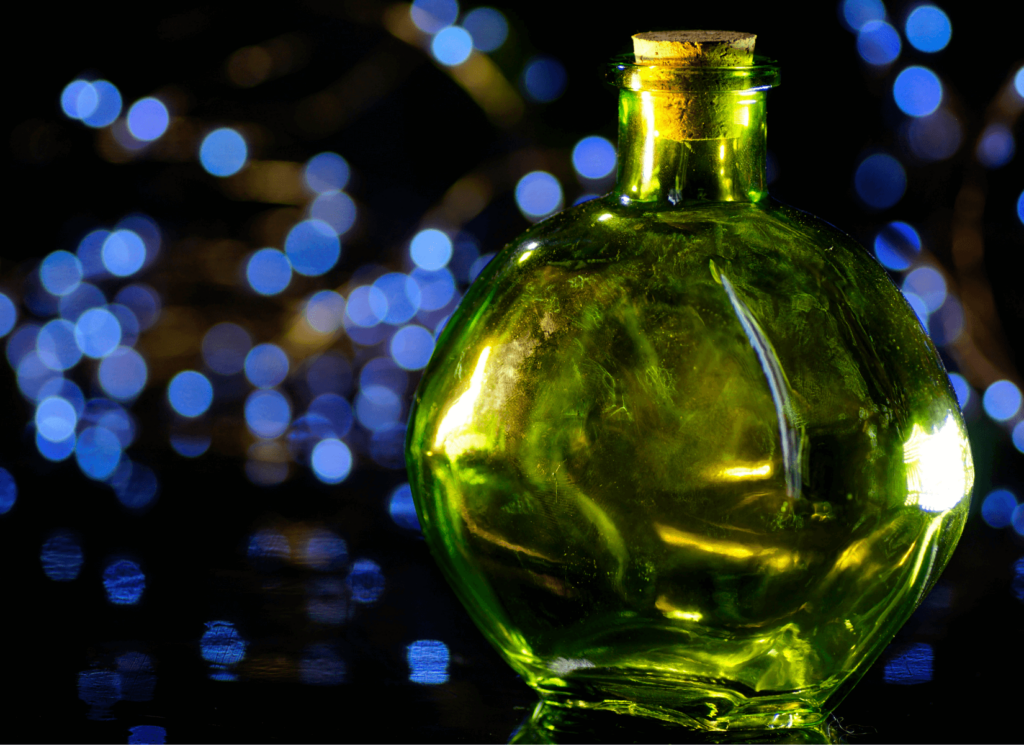 The Curse of Unbelief: Real Poison and Some Bad Ju-Ju
My husband uses the term "Bad Ju-Ju."
This cracks me up.  Truth be told, Justin is pretty straightlaced. However, he is also a devout follower of the school of "good thoughts." Justin and I both regularly listen to a refresher course in The Power of Positive Thinking, by Norman Vincent Peale.  However, both of us work hard at thinking and believing in good.
Frankly, it is easier to believe all is lost and focus on the bad ju-ju, instead of the good.
So recently we were cleaning up the garage when I heard Justin yelp.  "What!?!?" I begged.  I mean it would have to be a snake to make this tough guy yelp. He held the box at arm's length and ran out to the dumpster.  But he came back holding the box.  "It is stuff from that horrible lawsuit.  But, I can't really throw it away.  We should probably just keep it for our records."  So he walked over to the work bench, grabbed a sharpie and wrote: BAD JUJU on the side of the box.
At least now, we will know where to keep the bad juju, right next to the poison, and curses. 
For years I believed I was cursed. The reality is the only curse I bore was the curse of unbelief.  
The internet certainly has its perks, I believe in the good it has brought to my life.
But it sure has its baggage.
Seriously, it's a literally blessing, and a metaphorical curse.
As a believer in Jesus Christ, I cannot be cursed.
Still, via the power of the internet, I came here to say, my fellow sisters, stop believing the lie that the demonic has a hold of you.
Recently, on a search for something on Pinterest I saw a post about breaking off curses for financial freedom.
Fine.
I clicked on it.
I mean, who doesn't want this?
Of course, it was eyecatching (PINTEREST 101) and it was applicable to me, mom of 6 with 1 launched, 1 Marine, and 1 with a foot out the door.
The post was deceiving.  I truly was under the impression the article was about steps to recover from debt and the hypothetical curses that we are burdened with, not a literal curse. It was about a "legit curse" and the devil's continual corruption of my life and making God move. And here's the thing – there are spiritual badlands where I am not where I need to be, but God is always right where He should be.  He is always faithful.
Say it with me:  He is always faithful.
Yep, I can put too much on a credit card.  My mom and her mom might have done the same, but this is not a generational curse; generational folly… sure, but cursed?
Nope.
I believe in Jesus Christ, only Son of the Father who suffered, died, and was buried.  On the third day, in fulfillment of the scripture, He rose and is seated at the right hand of the Father.
I believe and I am redeemed.
There is no "curse" that can separate me from the love of the Father.

In my quest to make sense out of madness I have added to a non-existent tally to understand and embrace God.  This methodology kept me steeped in works… and terror.  Fearful I was missing a step or failing to do that which will count me righteous when all that counts is Jesus, is the busy work of works.
The danger of this is two-fold.
This is a works justified faith, which is the absence of Grace. (You who are trying to be justified by the law have been alienated from Christ; you have fallen away from grace. Galatians 5:4)
Perfect love casts out all fear, so if I am to freely love my God how can I subscribe to a  law of terror? (1 John 4:18)
The idea that we as believers can fall under the spell of a curse is a lie from the enemy that keeps us self-focused, sinned focused, and needlessly ritualistic.  It is the opposite of faith in the power of the Cross to believe we can add or take away from Jesus' mercy.
At a season in my life when I was most paralyzed with fear, I found myself tirelessly working to have certain "curses" removed from me so I would be free from my terrors.  I followed steps, I highlighted, marked and circled. I proudly checked off the list as if I had finally discovered the formula by which the horror would cease.
The reality was and is that my mind and heart were simply shackled to the "omen" because the "omen" was the focus.  When my gaze turned to the Son of man everything changed.
If He is for me, no one can be against me. (Romans 8:31)
He came to set captives free, I am free indeed. (John 8:36)
Surely I say to you, He came to give me life and peace abundant, therefore, life and peace abound! (John 10:10)
[bctt tweet="The reality was and is that my mind and heart were simply shackled to the "omen" because the "omen" was the focus.  When my gaze turned to the Son of man everything changed." quote="The reality was and is that my mind and heart were simply shackled to the "omen" because the "omen" was the focus.  When my gaze turned to the Son of man everything changed."]
And while I spoke these phrases, it wasn't until I wholly believed and fell into the arms of Jesus that I was finally free from "chicken sacrificing" and "10-steps this way" Christianity.
Which, I boldly profess is the real curse.
The curse of unbelief.  Store that which blesses, toss out that which "curses," and make sure you mark truth in permenant marker, so you never get it confused with the bad ju-ju.
I say, let's take off our funeral clothes and step into the banquet hall.  Here in this place, the veil has been torn. Nothing stands between us and the Father.
A Father who loves us, unto the sacrifice of His only son.
Pin that sista!
May your floors be sticky and your calling ordained.  Love, Jami
Matthew 7:24-25 (NIV) "Therefore everyone who hears these words of mine and puts them into practice is like a wise man who built his house on the rock. The rain came down, the streams rose, and the winds blew and beat against that house; yet it did not fall, because it had its foundation on the rock."
You might also like:  THE CHRISTIAN BURQA