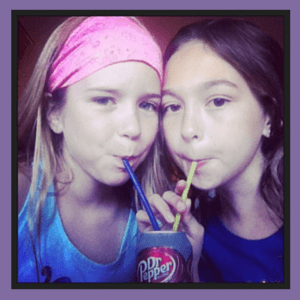 The Year of Non Compos Mentis
There are mommy blogs for moms of babies, toddlers, school-aged children, teens, service men and woman, moms of the empty nest, and moms with empty arms.  I try and blog about every stage.  My children currently range in age from 20 years to 5 months.  I have been around the block.  I have seen a lot.  I refuse to say I have seen it all.  The minute you say "I have seen it all," you find your two-year-old and three-year-old pouring maple syrup into a violin.

And we all have hopes and dreams for our parenting journey. And I am no expert.But I do have some advice to give you.
1. Never say you have seen it all.
2.  Never say never.
3. Do not criticize another parent or their child lest you are fully prepared to experience the full wrath of Karma.
4. There is nothing that can prepare you to parent a 13-year-old.
non com·pos men·tis ˌnän ˌkämpəs ˈmen(t)əs/
adjective     1. not sane or in one's right mind.
This is the definition of a 13-year-old child.
I have had three full tours of duty.  I am currently on day 169 of my 4th tour.
We are fully aware the next time we face this stage with our young son, my husband will be 55.  I will be 53.  We don't expect our age or seasoned parenting to spare us in any form.
There is just no way to know what to expect, or how to manage.  It is a roller coaster ride.
 There is one well-known lie in the parenting gig – "terrible two's."  Two has nothing on three.  I think the term "terrible two" is just popular.  Granted, two is hard.  All of the sudden your sweet baby starts to try your patience, but three.  Three is like nothing you ever imagined.  And then you cross that finish line.  You are done.  You breathe a sigh of relief.
You think you are sitting pretty until the dreaded teen years.  I have had easy teens and hard teens.  I can tell you about those seasons.
 But I feel it is more important that I streamline.
 There is no easy 13-year-old.
On the night before our beloved Sophie turned 13 my husband and I prayed, paced, cried, and prayed some more.  We knew when she went to bed that night she would undergo a change while she slept.  And for the next 365 days, we would live with sunshine, rain, blizzards, tsunamis, and warm summer breezes.
It is impossible to prepare for this kind of weather.
In the same way, you can't prepare for your child to turn 13.  You can't know what to expect. You can't fathom the psychosis.
A few weeks ago I picked Sophie up from school. She entered the car, and I immediately saw she was downcast.
Me: What's wrong?
Sophie: Nothing.
Me: Oh you seem sad?
Sophie: I am fine.
I let it go.  We get home, and she has a snack.
Me: Could you please take your laundry upstairs?
Sophie: (bursts into tears) WHY ARE YOU YELLING AT ME???
Me:  I wasn't yelling? (calm nurturing voice, NO SUDDEN MOVEMENTS)
Sophie:  You are constantly yelling!
Me: Ok… (Back away from the sharp objects) would you like to go to my room and talk about what you're feeling?
Sophie: (barks) SEE? You just can't let it go! I don't want to talk!
Me: Why don't you lay down until you are ready to talk.
Sophie: OH SURE!  Go lay down. That doesn't help the fact that you refuse to listen to me. I need to talk, and you tell me to lay down? 
I walk away.  I recommend walking away. It is the only rational response.  Two hours later,  Sophie is doing dishes, singing praise and worship music.  Thirty minutes later she is crying because she's out of shampoo.  An hour later, she is reading books to her toddler brothers in a picturesque fashion likened to a Norman Rockwall painting.
 12 minutes before bed, another day in the tour nearly behind us, there is a door slamming fit that involves mismatched socks, something about bangs being back in style, a missing sour apple Jolly-Rancher, a misplaced protractor for a geometry class she won't take until her sophomore year in high school, and the bellows of how no one listens or understands.
And so, we took her phone.
Further investigation affords us the knowledge that the coalition of thirteen-year-olds she confides in rallies in her plight with the aforementioned psychotic outburst and, we are in fact "crazy and unreasonable." And "imho" she deserves better.
We are seasoned.  We shouldn't be surprised or confused.  But we are.  We have never experienced the level of lunacy that we are now faced with because, it is never the same.  No thirteen-year-old will perform at the same level of insanity or intensity as any 13-year-old before or after them.
So why do I tell you this if it does not prepare you or teach you?
Two reasons.
1. There are a few tidbits that might help. You can choose now to embrace the loss of a year of your life.  No vacation. No reprieve.  Survival.  Consider some marriage counseling. Avoid sudden, quick movements. And by all means focus on crossing the finish line. As quickly as the thirteen-year-old morphed on the morning of their birthday, they emerge on the morning of their 14th birthday better, new.
2. Be nice to 7th and 8th-grade teachers. Take them lattes and slip them M&Ms. Don't complain to them, certainly never question them. Ever. They make their living in the chaos that is the apocalypse of childhood and surging hormones.  In the confines of this axis, they boldly tread not ever knowing what to expect or when to expect it.  They are a master of the trade, even if they are lousy at it, they are better than you.
There is a reason we fear Friday the 13th, and why there is no 13th floor in high rise buildings. Thirteen is no joke.  The year of non com·pos men·tis is the year you get your parenting wings.  May God be with you….See you on the otherside Sophie A. Rose.