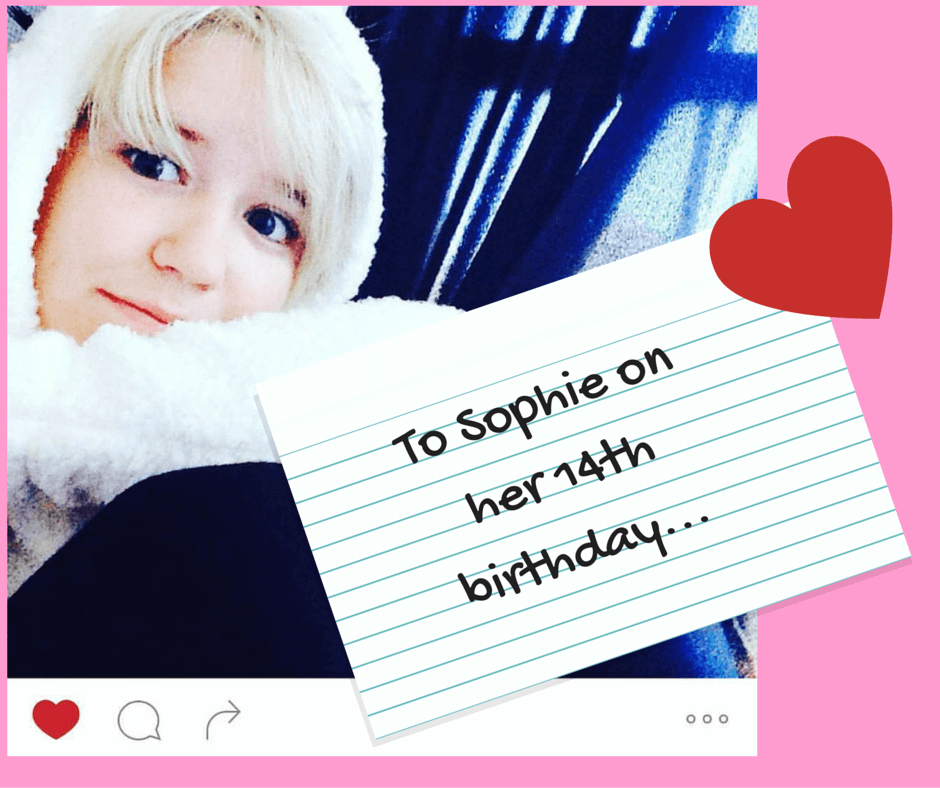 To Sophie on her 14th Birthday…
Dear Sophia Rose,
One year ago today, you woke up looking like you were headed to audition for a Monistat commercial.  I couldn't tell you then what I can tell you today. Today, you are fourteen. Fourteen will be easier than thirteen.
Thirteen is an unwelcoming number.
It is the dawning of a new age. Gone are the days of angelic smelling armpits and the truth literally comes out about what really happens when you start you period.
Nothing can prepare you.
I wrote a post last year on this date knowing full well we were entering into "the tween zone."
For whatever reason, 13 has been the worst season for all four of our children this far.  Remember John and the backwards hat, no haircut, and what was that sad song he listened to over and over? And Luke when he wouldn't come down off the roof?  And geez, Maggie, I just can't.
The night before your thirteenth birthday you wore yellow, and I recall you made a cup of sleepy time tea with cream.  I watched you wander up the stairs knowing you would come down in the morning – different.
I was right.
Luckily we have a sense of humor.
Luckily we knew there was light at the end of the tunnel.
But the truth is, in spite of the turmoil associated with the 13th year – you were and are a delight.
You are different than those before you, perhaps wiser because they were weirder.
And I was criticized for letting you dye your hair red, then purple, then, whatever – but we never once found you on the roof and you bathe without being asked.  For a season we all question who we are, who we want to be, who we wish we were. I wonder why we, who all do this, also assume it is wrong to do so.
In the next 13 years, you will see things on primetime television that I didn't know about until I was 40. Families look different. Prejudice is just as ugly as ever. Hunger is rampant. Sin is still just as dreadful and there is still no resolute cure for menstrual cramps.
I don't know what to tell you about the next President sweetie, please don't ask me.
The things that are most fascinating about you are not to your father's and my credit. I love that you talk to the foster baby in an English accent in the hopes she will return home sounding as though she was cared for in London. I will forever remember your voice as you rocked a little foster placement and sang, "I'm gonna love you, like I'm gonna to lose you, I 'm gonna hold you like I'm saying goodbye…"  I don't know why you can play the piano by ear, but I thank God that you can – and were not slain with my genetic inability for song.  You are kind. You are funny.  You are creative.  You submitted to the loss of "youngest" in our family with a zeal for the orphaned and never seemed to mind when you stopped being the baby.
Thank you for that.
In your thirteenth year, you attended the funeral of a dear friend, your piano recital photo went viral, you moved, changed schools, gained a brother and a sister – knowing full well they might leave, and loved them fearlessly anyway.  You went to new heights in Colorado and tried everything you could in Disney World.
You were a mermaid, a Chinese princess, and Loisa Von Trapp. Still, you were grounded in a million ways and a leader and caregiver in a million others.
Your uniqueness is best explained in your ability to stand before a panel of judges and belt out a show tune in hopes of winning that next big role, and your inability to order your own Starbucks Frappuccino because you are shy.
I wish the entire world could embrace the mystery that defines you, dear one they would be better for it.
My prayer is that you continue  to live the song I adore hearing you sing:
And love like you're not scared
Give when it's not fair
Live life for another
Take time for a brother
Fight for the weak ones
Speak out for freedom
Find faith in the battle
Stand tall but above it all. (For King and Country)
Fixing your eyes on Him… never forgetting, although you're not that great, you are wonderful to us. Happy 14th birthday, Sophie. Welcome to the other side.