Balanced Blair: A Short Story About Balance
Listen or Read it or Both!
A short story about Balance by Jami Amerine
The worn red carpet of the little chapel in the woods held many secrets. 
If it could speak it would tell the stories of weddings, funerals, baptisms, scandal, restoration, who really knows what else? 
Blair stared mindlessly at her white satin shoes.  She had decided to go with the one-and-a-half-inch heel.  Really, any taller, and she would trip down the aisle, rather than glamorously glide. Besides, there was no point in pretending her groom wasn't a full foot taller than her. She habitually crossed her ankles, reconsidering the taupe stockings she had chosen.  "Get a grip, no one will care about your pantyhose, Blair.  Although… the sheer buff."  She stopped herself.  One of the goals she had recently set for herself was to be more precise.  
Either that or to be more flexible.  
She couldn't decide which would be of more benefit to her. Blair ran her trembling hands over her lap and marveled at the white taffeta covered by a single layer of silky lace of what she deemed the "most perfect dress she had ever seen."  The dress she was sure of, she had not grappled with that decision. A tea-length masterpiece with a full skirt, cinched waist, three-quarter length lace sleeves, and bodice, all meticulously adorned with the tiniest pearls on the planet.
Blair still couldn't believe it was her wedding dress.  
The dress only distracted her a few minutes more, wedding jitters forced her up and out of the mid-century plastic chair where she had roosted to wait.   She wandered to the dressing table to check the time. 10:56 am.  Blair had just killed seven minutes.  She looked in the fluorescent-lit mirror and told herself, "Thirty-four minutes. What are you going to do for thirty-four minutes?"  
She smoothed her auburn hair, neatly pulled tight in a fancy updo, and gave it one more spritz of aqua-net extra hold spray.  She adjusted the clip that held a sprig of baby's breath near mounds of her perfectly placed curls.  In spite of her deep need to continue to mess with her eye make-up, she most decisively decided to be done.  "If you don't stop you'll end up dropping the mascara wand and ruining your dress." 
She sounded like her mother.  
Her mother.  
Blair began to put her make-up back into the travel case, lest she continue to apply more, as her mother would have predicted. 
Oh, that woman.  Most likely Blair's mother was rolling around in her grave both delighted and miffed, as Blair got the indecisive gene from her late mother. It had taken Blanch's only daughter a disgraceful 42 years to find a mate.  Prior to Blanch Bryant-O'Hara-McKee-Jordan-Davidson's death 9 years ago, she had only one wish, that her daughter marry. Blanch had made marrying a regular recreation. Blair never met the first husband, who went out one night for a lively game of darts and was killed in a bar fight.  The second, Blair's father, ran off with a waitress from the Waffle House, never to be seen or heard from again.
The third was old, like creepy old.
That marriage lasted long enough to make the rest of Blanch's existence quite luxurious.  At his funeral, Blanch leaned in and whispered in Blair's school-aged ear, "Cross your ankles like a rich lady, rich people sit up straight and cross their ankles." The fourth husband was as young as the third was old.  For a while, Blair thought him more like a big brother than a step-father.  She had been quite fond of Danny Jordan. But after only two years of wedded bliss, Danny was just gone. Blair came home from school to find her mother in hysterics, divorce papers on the formal dining room table, and the only explanation offered her was, "He was too good to be true!" and "I don't want to talk about it."  Three months later husband number five made his way into their lives.  He verbally terrorized them in drunken madness and spent a huge portion of Blanch's money before being carted off to prison for some Ponzi scheme involving the elderly, eBay gift cards, and fraudulent life insurance policies. 
Blair wandered to the window to spy on the church driveway.  
She stared at her lonely, white Honda hatchback in the parking lot.  "You got here too early, now look at you, too much time to think."  Blair continued to just stand and watch the gray clouds gather over a canopy of pine trees.  She wasn't a bride that worried about the weather.  There were too many other things to consider.  
Lost in the hypnotic beauty of the forest and hopeful she would soon see her groom arriving for the event, she chatted to herself and the imaginary ghost of her mother that seemed to keep her company at all times. "He will be here shortly. You would like him." She snort-laughed, "No you wouldn't.  You would pick him to pieces. But he is tall, 6'5".  You loved tall men.  So that you would consent to. He makes a good living in construction, which you would deem 'blue-collar' and beneath us. But he is kind and funny. 
He is a good dad…"
And that is when Blair could almost audibly hear her mother's criticism.  "Grand!  You are marrying a man with FOUR sons!  You are a STEP-MOTHER?  Certainly, you will need to maintain the title wicked lest you be run over by orphaned boys hell-bent on accepting you as a replacement for their dead mother!  Jesus come quickly Blair!  I'd rather you get another cat and become head librarian than sell yourself a slave to marry a man with four unruly sons!" 
Blair nearly laughed out loud. "You would be wrong Mother.  You were almost always wrong.  And I only have two cats, that is not a lot of cats.  And for the thousandth time, I am not a librarian.  I am an acquisitions editor for a major publisher.  Not all single women with cats and a  love of literature are cloistered in libraries."  She inhaled deeply, feeling the liberation of speaking truth to her dead mother, as prescribed by her therapist.  "And the boys are not unruly.  They like me.  And I like them.  Frankly, I think their mother would have liked me too.  In an entirely different world, one where she was alive and I were not about to marry her widow, I think would have been friends."  
Blair could hear her mother's cackle.  
"I certainly hope you had sense enough to sign a prenup. If I taught you nothing else, I know I always reminded you the importance of a pre-nuptial agreement." 
Blair's stomach knotted. "I did not. There is no need of one. We are both financially stable and neither of us felt it necessary.  Everything is in order.  A trust for the boys, a joint account and we bought a lovely home together 20 minutes from downtown." 
She envisioned her mother rolling her eyes. 
Blair, unable to help herself continued to defend her life to the dead.  "It was in the same school district the boys already attended.  They didn't need much else changed.  It has a pool and huge oak trees and a lanai with an enormous rose garden. OH! And the staircase is just lovely and there is an office and library.  You wouldn't believe the library.  I already unpacked all my books and the shelves are only half full!" 
Her imaginary mother countered, "You and your books.  What you gleaned from those pages I will never understand."
Blair bantered back, "I found everything in those pages, rather than staring at a screen and being told the precision of another producer-director's vision, I used my mind to imagine every scene." 
A chill ran up Blair's spine, and suddenly she recognized she was completely alone.
Guilt crept up on her.  Guilt?  What was she guilty of?  Disrespecting her mother? No. She argued with the late-great Blanch Bryant-O'Hara-McKee-Jordan-Davidson nearly constantly.  She knew she would have to deal with this eventually, now was as good a time as any.  
As much as she looked forward to her new brood of boys and handsome husband, she knew there was a part of her that would miss the stillness of her solitude.  Able to do as she please, read in bed, skip dinner, eat breakfast twice, quiet conversations with herself or her cats, or nap on her porch swing all day Sunday.  Blair's life was about to be drastically different.   
Still, she never wavered on the decision to marry Andy.  
"Balance."
She said the word intentionally.  "Andy said, we will have balance.  We will communicate well."
Blair was transported back to the night he proposed, a crisp fall evening on a park bench steps from Blair's luxury townhouse.
He had promised they could overcome the stark differences in their lives. He might still be sad his high school sweetheart didn't live to see their sons grow into strapping, accomplished men.  And the mother of his sons was his friend, sometimes, no matter how much he loved Blair, he would need to grieve.  So would the boys.  And he knew, Blair was used to quiet.  He understood she was not accustomed to packing anyone's lunch but her own.  In addition, although he was a dog guy and no fan of cats, he not only tolerated Bitsy and Jiff, he had won the snobby feline duo over with patience and tuna flavored cat treats in his pocket at all times.  
"Balance." She whispered.  "Balance." 
This time it caught in her throat and delight washed over her.  There he was.  His huge silver truck pulled into the parking lot followed by his parent's Lincoln.  She watched everyone pile out and Andy's dad open the back door of the Lincoln and help the eldery pastor, a friend of the family, out of the car.  
Blair's eyes welled. Her guys. She gushed as the stair-step, toe-headed boys fidgeted with ties. The oldest, Brandon was only 10, but he looked quite serious about his duty as best man.  He patted his pocket, assuring his dad he had the rings.  The twins, Ben and Asher would celebrate their 8th birthdays in two weeks. They gave each other a shove.  David, the five-year-old bent and picked up some rocks from the gravel drive and stowed them in his pocket.  Blair giggled.  No doubt he would gift them to Blair later.  She had a vast collection of odds and ends David had bestowed upon her since their first meeting, 11 months ago.  
Blair stepped away from the window and picked up her simple bouquet of prim white daisies. She smiled, bit back tears, and thought of her mother once more.
As fancy as Blanch was, the socialite never grew tired of ordinary daisies.  
Blair checked herself in the mirror once more, she bravely bid farewell to the isolated space she was most familiar with.  She nodded at her reflection, fully content with the parting. 
"Balance Blair."
She crossed the worn red carpet just as the bridal march began to play and stepped into a dreamy new existence, a balance exactly who she was and the wife and mother she was about to become.   
The End 
Balance.  This is something I personally crave. I confess, this is a thing that has often evaded me.  As a creative, it often hard for me to step away from a project and tend to all the other stuff that needs to be tended to.  
Still, balance is important. 
There are obligations from outside of myself that force me out of my creative zone, and then there is an internal conviction that prompts me to seek balance for the sake of my family and those I love.  I am fine confessing, I can talk myself out of a stint on the treadmill for the joy of painting peonies.  Still, I feel better, sleep, and am more creative when I have made the choice, "Balance, Jami. Your canvas will still be waiting when you step off the treadmill."
This week's quality question is one that might require taking some notes.  It is kind of like an onion.  As you peel away the layers, one might lead to another.   
How do you find balance?  
Women get asked all the time, "HOW DO YOU DO IT ALL?"  And many times I believe the answer if actually said out loud would be, "I don't, there are tons of things left unattended to… I am just faking it to the finish line."  
What about you?  Do you have balance?  And if not, how can you find balance?  
Love, J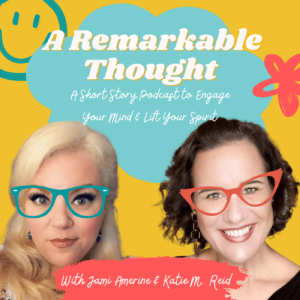 Episode Two is by Katie M. Reid… you can find it here!
Want your child to think for themselves? Want to write a better story with your parenting? Ready for your child to discover what's good and right with their remarkable mind—no nagging or lectures required? Well, we've created just the thing!
SocialWised U is an e-course with the sole purpose of gifting your family with the wisdom of how three parts of the mind work, while simultaneously teaching principles that will guide you and your children toward a healthy relationship with social media and each other, while creating a balanced and effective social media presence.  
SocialWised U is applicable for every age level and effective for completely reforming communication with your children and teens.
Engage your family's minds with clarity, through candid conversations and easy-to-adapt technology habits. 
Whether your child has yet to log it or has multiple user names, SocialWised U will show you how to experience less panic when it comes to your kids and social media.
Ready for more peace of mind and harmony in your household? Enroll in SocialWised U, at socialwisedu.org today!