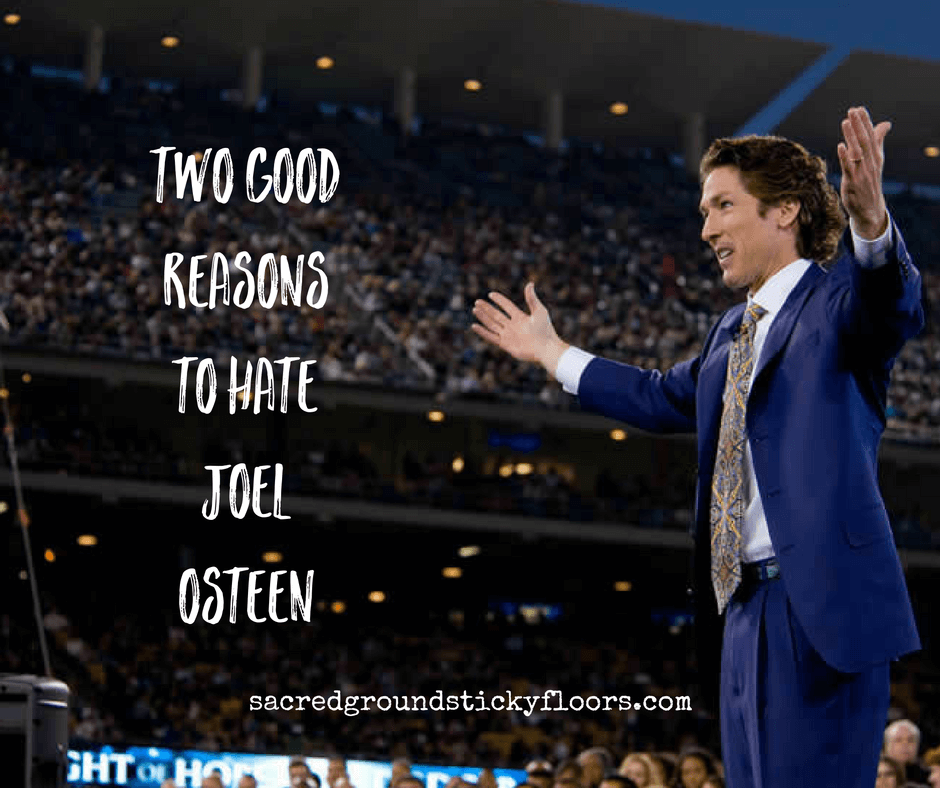 Stuff I Wish You'd Quit Saying: I Hate Joel Osteen
Stuff I Wish You'd Quit Saying Day 13 "I Hate Joel Osteen"
I had 15 requests in regards to Joel Osteen. Some were "I wish people would stop hating on Joel Osteen." The rest were… uh, hating on Joel Osteen.
I couldn't stop thinking about this and I admit I had chicken scratched Joel Osteen in my side notes as a "possible" topic.
Joel kept getting in my way. Commercials, this and that in my news feed, and finally I woke up to him in my hotel room.  I was speaking in Dallas, staying alone in a hotel. In the rare blessing of quiet, I fell asleep with the television on and I woke up to an Osteen sermon.
The sermon, "Your True Value Doesn't Come From People."
I scratched this quote on my notepad: "You can't become so dependent on people that you're getting your worth and value out of how they treat you. It's easy to become addicted to compliments, addicted to encouragement, addicted to them cheering you on, now you rely on man to keep you feeling good about yourself, to always be there to validate you, to make you feel approved, like a drug if they don't keep you fixed… you get discouraged, feel inferior… and you try and win their approval. The problem is you are trying to get from people what only God can give."
Indignant, I vowed, "OSTEEN MUST BE STOPPED!!!!"
I digress, unable to sleep, I got up and googled some videos and articles about him.
He seems harmless.
Cheesy humor, but I respect a guy that can laugh at himself. And he seems pretty happy; pretty wife, nice life.
Tonight, in the shower he came to mind again.  In a well-deserved, (I caught up the laundry today and organized fall clothes for the kids, I am feeling pretty self-righteous) shower, my mind bounced ideas off the tiled walls while my exhausted flesh was assaulted with lavender infused steam and a loofa.
I could certainly come up with a dozen or so PLEASE STOP TELLING ME WHO TO VOTE FOR posts, or Can this election PLEASE be over NOW!?!?!
But let's talk about Joel.
With my hair in a towel, clean jammies, and a giant cup of steaming decaf I started researching Pastor Osteen.
And here is my conclusion.
A lot of people hate him.
A lot of people love him.
He preaches a pretty "feel good" message.
He always points back to Jesus.
And in the current American atmosphere… he is just too freaking nice.  Someone make him stop it. For the love of all that is good and holy!  Is the televangelist a madman???
Hope.
Love.
Jesus.
Truth.
Bible.
Oh and… Prosperity and Grace.
The prosperity gospel is a hot button topic. But, I will get back to that.
Grace.
"Well, now you can't teach too much grace or the people will go crazy and think they can do whatever they want."
Need I remind you, Donald Trump and Hilary Clinton are our current choices for the most vital job in the country.  Soooo..  We have cruised on past crazy and entered into a whole new state of loopy.
Uh-oh Bubba, I think there are hookers in the whore house!?!?!
Yet, more than the obvious crazy there is social media crazy where every attitude and minimally important belief is spouted. And sure, I am part of the problem, but you're still reading so I will continue.
When it comes to Osteen I can find only two reasons to be up in arms.
Jealousy
Fear
I can see the jealousy thing, he does have it all. His teeth are stark raving white! However, his "prosperity" is something he claims that you can have too. He does teach you can have it all if you believe in your birthright as sons and daughters of the Most High. However, he goes on to say, "If God blesses you abundantly, you can pour out those riches on those less fortunate, and share the goodness of God."
Truly, he should be stopped.
And maybe he is making promises he can't keep or shouldn't attempt, which brings me to fear.
What are you afraid is going to happen if Joel preaches this message? That he will lead people astray? Or that all of the sudden droves of people in need of GOOD NEWS might sit down and listen and hear about a man named Jesus?
Cause here's my beef with the fear aspect: If we believe in Jesus Christ what do we have to fear?
Nothing.
The first time I heard about Jesus it was in a Mormon Church, I was baptized in a Disciples of Christ, married in a Catholic Church and I have 200 books in my office, books I can't begin to finish, all about Jesus.  Since the first time I heard His name I have sought Jesus and I know Him better today than I did yesterday.
The walk of relationship is far more satisfying than the work of religion.
[clickToTweet tweet="Uh oh Bubba there's whores in the whore house. #stop" quote="Uh oh Bubba there's whores in the whore house. #stop"]
Let Jesus be Jesus. If Joel Osteen is facilitator for the first time the name of the LORD is whispered into a person's life – JESUS is more than capable of unearthing truth. He is Jesus after all.  God isn't shocked that Joel Osteen has 25,000 in attendance every Sunday morning.  He's not on the throne popping Xanax and taking his blood pressure, "JESUS! Did you know about this guy??? Did you have any idea this was going on??? Who is this joker and why are his teeth so white??"
The God of Israel, Maker of Heaven and Earth, King of Kings, Alpha and Omega is fully aware of what Osteen is teaching, preaching, and doing.
The reality is, nothing gets past Him.
Unless of course, The God of the Universe was napping during the Democratic and Republican National Conventions, which would explain a lot… "JESUS! I told you not to send in the clowns until AFTER the Conventions!"
"Sorry Dad…"
May your floors be sticky and your calling ordained. Love, Jami
Not that we are competent in ourselves to claim anything for ourselves, but our competence comes from God. 2 Corinthians 3:5
You must read: Three Things Christians Must Stop Saying
You might also like: Fresh hate & Jesus fish
Need a break from the madness? Check out my friend Angela Parlin's 31 Days of Poetry and Writing prompts. Angela is wise and kind. She makes me smile!  www.angelaparlin.com