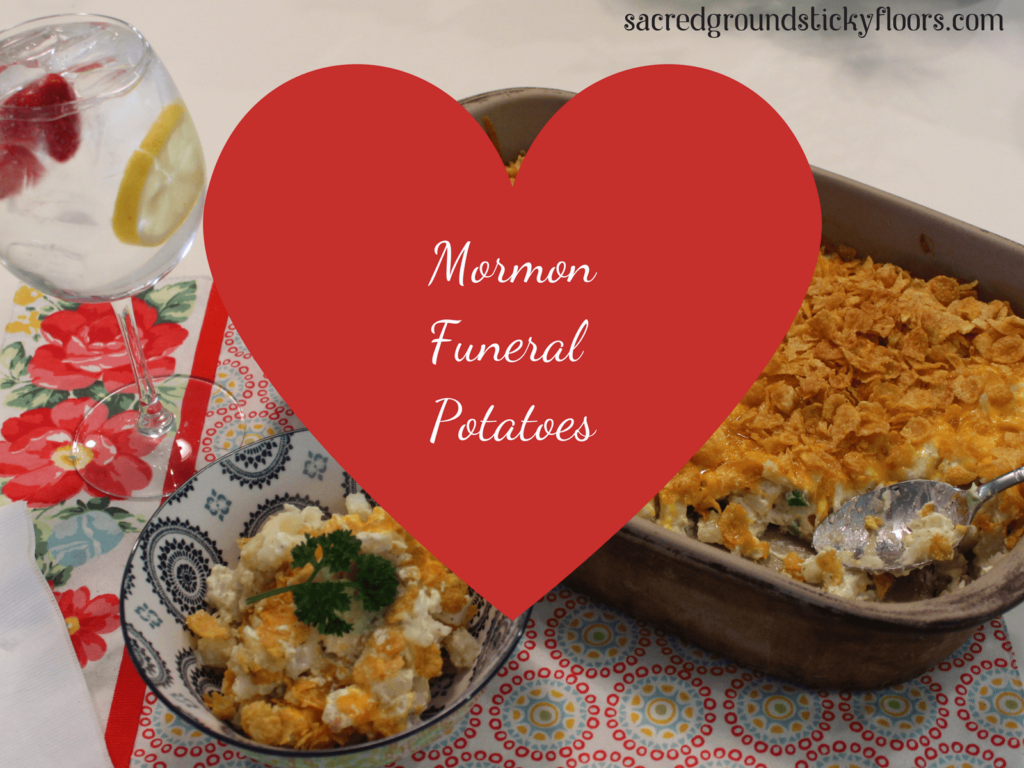 Sacred Ground Sticky Floors Recipes: Mormon Funeral Potatoes
Mormon Funeral Potatoes?
More than a recipe, it is a legend.
Yes.  That is what I said.  So?  What is the memory you have of a childhood food?  Every event, party, wedding, holiday, and yes, funeral included these potatoes.  My grandma made them and served them with honey ham, warm yeast rolls, and green beans.  They were… divine.
They still are.  Oh, and let me interject… IF there are any leftovers, these and a couple of eggs over-medium… To. Die. For.
Granted, they are a caloric death storm, they are politically and religiously incorrect, but oh… so right.
So, we save this one for the best of occasions so as to save us 100 laps around the track.  They simply cannot be beaten.  I think you'll find your family (especially manbabies) will deem these taters utterly notable and will make your family eager to attend the next family funeral.


Without further adieu…
Mormon Funeral Potatoes
Yield 10-12
Just absolutely a family favorite!!!!
Ingredients
1 cup sour cream
1/2 cup mayonaise NOT MIRACLE WHIP
1/3 cup half and half
1 teaspoon salt
1 teaspoon pepper
1 can cream of chicken soup
1 cup chopped green onion
1 32oz bag country style hashbrowns thawed
2 cups shredded cheddar cheese
3 cups semi-crushed corn flake cereal
1/2 cup butter, melted
Instructions
Preheat over to 350.
In a large bowl, whisk together sour cream, mayonaise, half and half, salt and pepper.
Fold in green onions and hasnbrowns.
Pour mixture into 9×13 greased casserole dish.
Sprinkle cheese over top, followed by corn flakes, and finally melted butter.
Cover with foil and bake 45 mins.
Remove foil and bake 10-15 minutes more.
Casserole should be golden brown and make you cry just a little because they are so freaking fantastic.
Pull yourself together and serve!
Courses Side Dish
Cuisine Utahan
I can't be liable for what these potatoes do to your heart or your waistline.  BUT I LOOOOOOVE them.
I hope you will too!
May your floors be sticky and your calling ordained!  Love, Jami