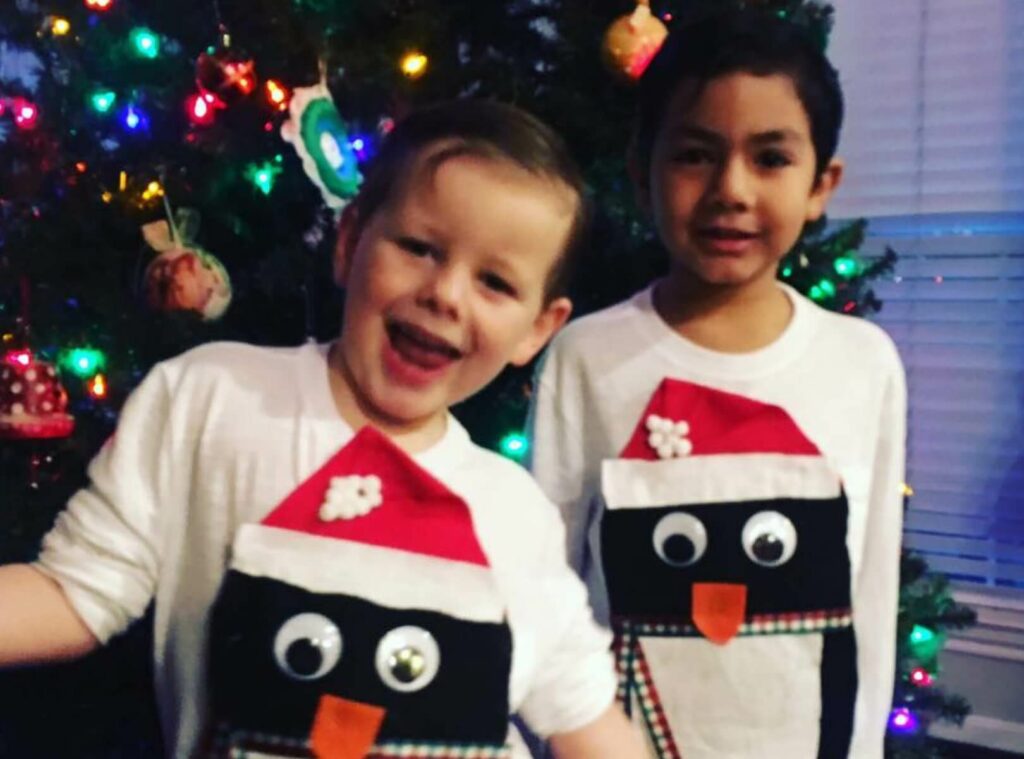 How to Save Christmas from Villains, Grinches, and Sub-par Parenting
How to Save Christmas from Villains, Grinches, and Subpar Parenting
Prior to my second book's printing, I received a call from my editor.  The editorial team was in love with a new subtitle.  It was a nod to my viral post An Open Letter to My Children: You're Not that Great.  I appreciate that post, it was the catalyst to an agent and book deals.
However, it isn't my finest work.  Truly, if you want to be heartily amused, go read the 479 comments on that post.  Crazy is ahead in the race for humanity.  Anyway, my editor revealed to me that the team was in love with "Sacred Ground Sticky Floors: How Less than Perfect Parents Can Raise (Kind of) Great Kids." 
My hesitation was simply this, "In this book, I end up in the back of a police cruiser, held for questioning for possession of an illegal narcotic with powdered donuts all over my face?"  It isn't really a "how to" book.  I will interject here, I love the title of this book.  Truly, I love this book.  It is my whole heart.  As I worked through parts of what, frankly, were my own insecurities, I came to this conclusion: It is not a how-to book, it is a how He book.
How He saves, and how He restores.  Most assuredly, how perfectly He, the God of all, parents us, His children.
In book writing, and parenting, if you are authentic, there is a real possibility, you will show your entire hiney in Walmart. Note: that story is in my first book, Stolen Jesus.  Raise your hand if you are seeing a pattern here.  I was recently introduced on a podcast as the "Lucille Ball of Christian Writing."
I am still trying to come to terms with this. Frankly, I am not ready to talk about that yet.  Also, I am taking applications for my Ethel.  Truthfully, I need a partner in crime or a witness to the antics and bail money.
So, let it be said of this post, I am a champion of subpar parenting.
I have made my share of mistakes.  And, since we decided that we would continue to parent little people, well into our 50's (Justin, I am not 50… for a while) I feel I will have many more opportunities to lower the bar on stellar childrearing.
Still, I love this gig.  These humans, biological and otherwise obtained, are literally the best way to spend every day of my life.  So, at Walmart, a couple of days ago, fully clothed, when I witnessed a young woman checking out with her hysterical little boy, I chuckled at first.  This is just how it sometimes goes at Walmart with little people in tow.
And then I heard him say, "Take it back!  I promise I will be good!  Pleeeease Mommy!  I will be good!"  As the weary mom unloaded the staples from her cart onto the conveyor belt, she shook her head and barked, "No!  You blew it this year!  Santa isn't coming, you are too bad.  He hates bad boys."
The boy raged and collapsed onto the floor in a heap.
I am not a professional.  I do not pretend to know what she faced that day.  Nor do I know what antics this child had capitalized in on isle 9, 14, and 20.
We all have bad days.
I confess, both, in my experiences in everyday motherhood and foster care, I have a journal where I write down scenarios like the one listed above.  For the rest of my days, this woman and her child, and many others are prayed for daily.  I cannot save the world, He already did.
Furthermore, I pray that I too am listed in some prayer journal, by some bedside, prayed for by some stranger, who witnessed my folly, and recognized my brokenness.  Again, I say to you, I am not perfect. I have made mistakes with my children in line at Walmart.  Also, at a Chuck E. Cheese, several church potlucks, parks, playgrounds, Putt-Putts, roller rinks, choir and piano concerts, Payless shoe stores in 12 counties in Texas, and a souvenir boutique in London.
Long live the Queen.
Last night as I toiled with this post, our two young sons, who we loving we refer to as "the Vandals" were watching a series of Christmas specials.  (Yes, I know, you think I am awful for calling them, vandals.  Add it to your intercessory prayers, and feel free to start a Go-Fund Me. They have ruined another toilet and there is duct tape on every piece of furniture in my house.  Whatever.)
The recurring theme blaring through our house from the television was the message of the saving of Christmas.  And no, not keep Christ in Christmas.  But saving Christmas from the bad guys, Grinches, and the hopelessness of humanity, through the brave acts of random cartoon characters.
As I step onto my soapbox, I do so knowing this is the hardest of seasons for moms.
We, bakers of gingerbread, decorators of wreaths, trees, classroom doors, and wrappers of gifts, do it all.  Often on a shoestring, and amid utter brokenness.  We do it so that they might have joyful memories and a steadfast belief in the unbelievable. Greater still, we do it for the hope and wonder.  And yes, definitely for the love.
I am tired too.
But I come to you to say this, we are not the keepers of Christmas.  No matter what Starbucks has on their cups this season, despite whether the clerk at Target says "Happy Holidays" or "Kiss my…" Christmas belongs to Christ alone.
Americanized Christmas is not the definition of the birth of our Lord.  No offense comes from Him.  You and I cannot undo what was done in that stable or on that old rugged Cross.  The protests, school shootings, and the internet cannot trump what He did so that you and your babies might live.
I join you in the hope of a better world.  That's me, I am in line with you, buying toys for random tots, who otherwise will have nothing.  I bake with you.  And I lick envelopes and tell tall tales of our perfection, to send to the masses, who haven't witnessed us in line with vandals at Walmart.
But let this be our battle cry: there is no contingency on Christmas.
It will come again and again until He returns, in spite of our behavior.  He cannot be lost on us.  It will not be lost on bad little boys or little girls.  Christmas cannot be stopped based on whether our Christmas spirit is rocking a Santa hat or a black cloak with 666 embroidered on the back.
That is the entirety of Christmas.
I couldn't, He did.
Somewhere in the mess of mistletoe, travel plans, and elaborate gifts, we have come to believe in the most mythical of beasts, a liable love that gives good for good and bad for bad.  The man with the bag and the fib we can earn the most perfect gift is lodged in our chimneys, steeped in condemnation and shame.
The greatest display of Christmas is the truth that it cannot be undone.
[bctt tweet="The greatest display of Christmas is the truth that it cannot be undone.  #newpost #christmas" quote="The greatest display of Christmas is the truth that it cannot be undone.  #newpost #christmas"]
It cannot be stolen or destroyed.
Away in a manger, born to a virgin the impossible became possible.  2000 plus years later humanity may have morphed that triumph into something sterile and commercial.  We may rage against that, we may fight, and claw our way out with protest and more pie, still we cannot impact the perfection but for the lie, we can earn it.
We couldn't, He did.
I may call them vandals, simply because they vandalize.  I may be wrong, but I am right in this, no matter what they burn, demolish, or have to have medically extracted from an orifice on their person, they cannot lose that which was freely given.
There is no threat or fable I will give them that includes, "you cannot have this Christ unless you are good."
He came to set captives free while we still sinned.  This celebration is the prelude to the greatest miracle in history.  When this God-baby would suffer and die and be resurrected so that, those who believe would never be separated from Him, for eternity.
It cannot be lost, stolen, or destroyed.  Not by them, nor by us.  This is the message we must share, it is the message of the saving Grace of Christmas.
Merry Christmas, see you at Walmart.
May your floors be sticky and your calling ordained.  Love, Jami
But the angel said to them, "Do not be afraid; for behold, I bring you good news of great joy which will be for all the people… Luke 2:10
Visit www.jesubealloveryou.com to learn about our new subscription box!  A great gift or treat for yourself with bath and body goodies, tshirts, jewelry, stationery, and exclusive articles written by me only for subscribers!  And a portion of every box goes to help fund our efforts for foster care reform!  Cover yourself and the world in clarity, truth, and goodness!