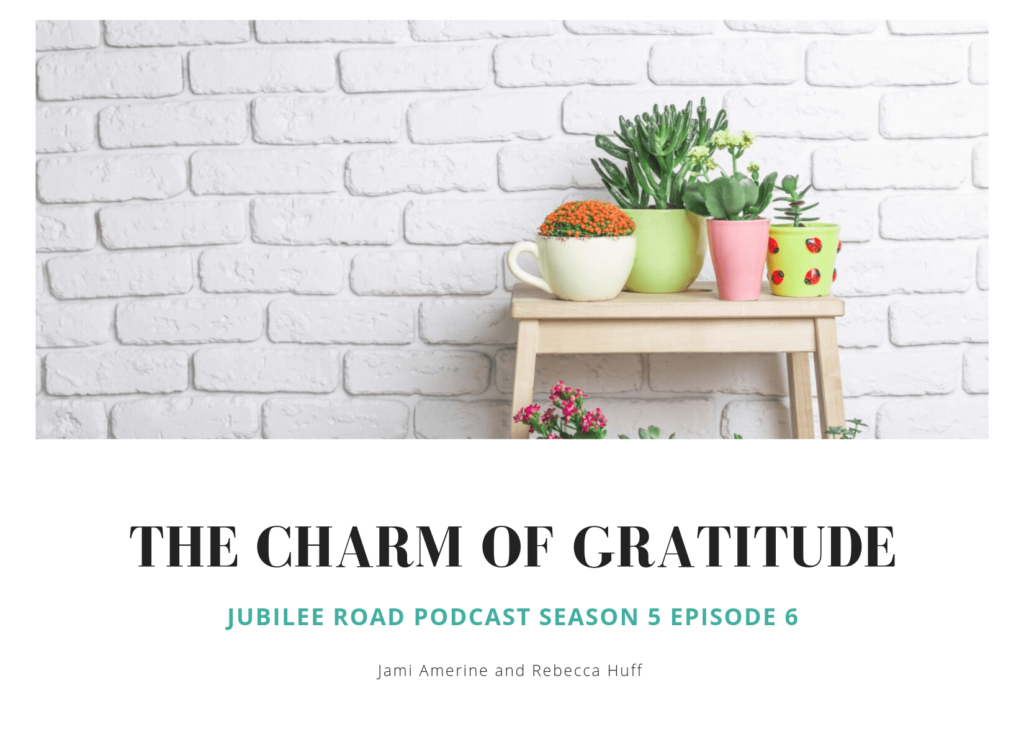 Season 5 Episode 6 The Charm of Gratitude
Gratitude bestows reverence, allowing us to encounter everyday epiphanies, those transcendent moments of awe that change forever how we experience life and the world. -John Milton
Road Sign – Appreciation will be your chauffeur to a charming life.
Scripture (be) rooted and built up in him, strengthened in the faith as you were taught, and overflowing with thankfulness. Colossians 2:7
Gratitude
[bctt tweet="Gratitude is one of the most charming characteristics I have encountered…" username="httpstwittercomjamiamerine"]
Rebecca's Healthy Bite! A Healthy Bite – Metabolic Syndrome
Book Recommendations on Gratitude
The Best Yes by Lysa TerKeurst
Bright Line Eating By Susan Thompson
One Thousand Gifts by Ann Voskamp
Jami's Life Application: "Being grateful is just gorgeous to me.  I think that a generous spirit is just darling.  Gratitude is one of my favorite characteristics. Our foster love use to say thank you for everything and it was so sweet and dear."  
Gratitude Quotes:
The less I needed, the better I felt. Charles Bukowski
How we talk. Social Media. People spend so much time complaining and pointing fingers. Let us remember "The Bible reminds us that we shouldn't "let any unwholesome talk come out of [our] mouths (or fly from our typing fingertips), but only what is helpful for building others up according to their needs, that it may benefit those who listen." That's from Ephesians 4:29," 
― Lysa TerKeurst, The Best Yes: Making Wise Decisions in the Midst of Endless Demands
"The way to move out of judgment is to move into gratitude" 
― Neale Donald Walsh
Rebecca's Healthy Bite: Metabolic Syndrome
And listen to Season 5 Episode 6 here! The Charm of Gratitude

Please become a Patron!  We love loving on our Patrons!
Check out all the t-shirts we are adding to the Etsy shop!  Jesus be all over you, Grace Girl, Marine Mom, and Jesus drank wine shirts too!  Follow this link and favorite my shop so you never miss another design!