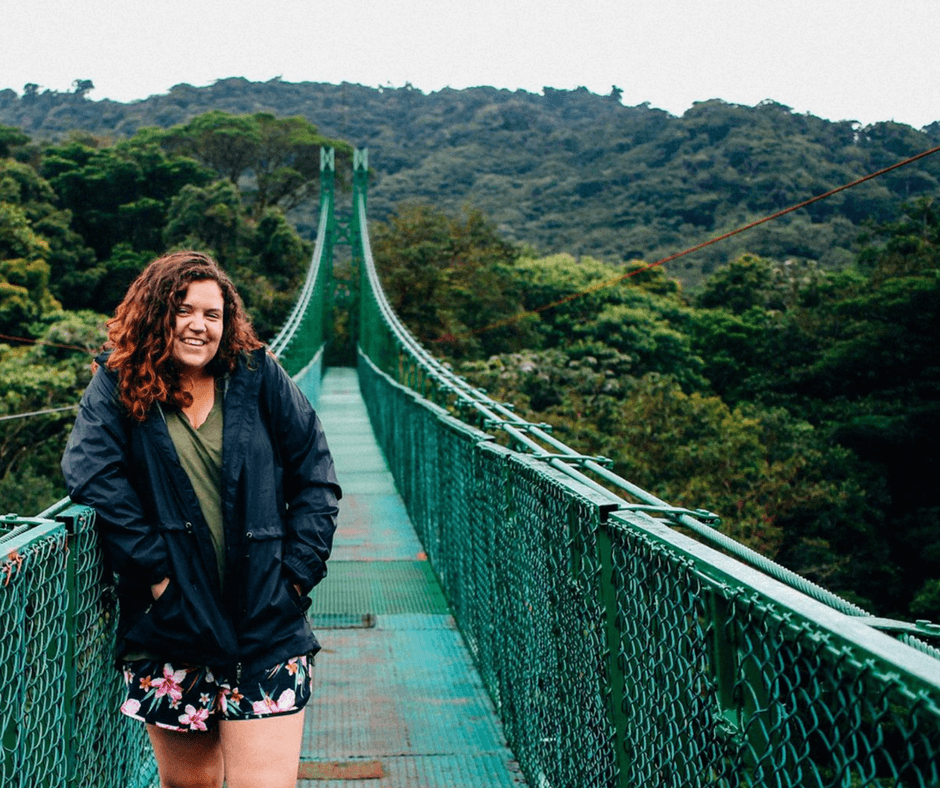 It's a Jungle, Not a Petting Zoo
It's a Jungle, Not a Petting Zoo
Our oldest daughter, Maggie, is in Costa Rica with her college friends. They went together to celebrate their graduation.  Also, to "play with sloths."
This has been a lifelong goal of Maggie's.
Maggie has walked a favored path.  She's been swimming on the beaches of Venezuela, Costa Rica, and Spain. She's wandered hills in Scottland, England, and Ireland.  She's had Belgium waffles… in Belgium. Crème Brule under the Eiffel Tower, and horse meat in Kazakhstan.
The oldest of my parent's grandchildren, she has reaped the travel benefits of their crazed passport stamps, but some of these journeys she has done on her own throughout high school and college.  She has an old soul and wanderlust that craves adventure.
I was not surprised to see her Facebook status, "I was attacked by a monkey on the beach!"
I guess I knew it was something I would hear her say one day.
Still, I commented, "MAGGIE!  It's a jungle, not a petting zoo!"
[clickToTweet tweet=""I was attacked by a #monkey on the beach!"" quote=""I was attacked by a #monkey on the beach!""]
After I had posted the comment, I knew full well… I was talking to me.
It's a jungle, not a petting zoo.
In a season of grief, I am hobbled and caught fairly off guard by the jungle.  What looked like a petting zoo, was much more like a tropical rain forest, during a tsunami.
And it is time to close out the month of May, National Foster Care month, and ironically as it comes to an end, so also does our time with our 18-month placement, a baby girl we met when she was just three months old.
The end of this month also marks my husband's and my 25-year wedding anniversary.
The plans we made, in the beginning, looked like a petting zoo.
Come to think of it, have I put a petting zoo sign on every project or aspiration of my life?  Have I expected everything to be bunnies and baby chicks?
Yes. 
I am not a "foster care blogger."  It's a good thing because this week might be the end of my writing career if I was.  But the truth is, what I am about to say applies to every Christian on the planet.
I knew foster care was going to be hard, but I tried to make it "hard" within the confines of my own made up rules.  As if to tell God, "I am going to do this one thing for you… here are the terms of my obligation."  Then way over in the corner, I built a little pen where I kept unruly rabid goats, safe and away from the bunnies and baby chicks.
Occasionally I was shocked to find an alligator hissing at me, I would chase it away with prayers and fasting and try harder to control the little zoo with my good deeds and blueberry muffins, made from scratch.  Poison ivy might cause a little itch… another goat might go mental, but I was a well-oiled machine.  I had a list of preemptive strikes, and I was certain I was paying my dues, in complete control of the petting zoo.




I would let my people into the zoo, hoping my good deeds and constant management would protect them from any hurt.  Still, there was only so much I could do.  There was no way for me to stop them from approaching the cages where lions, tigers, and bears were breaking down the measly barricades I had built.
Welcome to the jungle.
Here in this wild place, there are sweet faces and hearts… there are broken spirits and ecosystems that have yet to be uncovered. And without malice, only believing in the greater good, I brought everyone I love into the petting zoo – and now they are with me in the jungle.
There are police officers and firefighters, Marines, and airmen and women – their families perhaps knew, "my loved one's calling is the jungle."  But I thought I had enough control, I called the jungle by a different name.
We have been attacked by a spider monkey.
Who picks up a cross and doesn't expect it to be heavy?
Someone like me.
And 25-years ago I had a plan to help young mothers in need.  I went to school, and I plotted the course.  I built little cages where I would serve the Lord and passersby could see the cuteness, but by no means feed the animals.
I put tape down and drew warning signs, "do not step across this line!"  I followed the sterile laws, used plenty of hand sanitizer, and repaired the pens.
At my core, I wanted to save the world.
But I wanted to do it my way, and never get so much as a little lamb tugging at my pant leg.
Christ in me is the only factor that made me brave enough to feed the bears, pet the alligators, or pick fragrant blossoms that may or may not be fit for human touch.  And now, there's no pretending.
This is the jungle.
These are the trenches.
And 25-years ago, I could have shown you the beginning of what I wanted, who I would serve, and all the ways I would control and manipulate the jungle so it had the appearance of a petting zoo.
25-years later as my family wanders to the edge of the jungle and watch a family reunite, it is bittersweet.  Throughout our wanderings, entangled in vines, ivy, and ferns, beasts have nipped at our heels, creepy crawlers stung our flesh and still, we loved fearlessly.
Yesterday I sat at my desk listening to a case worker explain the needs of a little girl, no safe haven, alone in the jungle.  I lay my head down and cried an ugly cry.  It stirred the natives and bothered us all.
For now, it was decided that we would rest in the petting zoo.  We would let our hearts mend, grow accustomed to the climate and the ease of crocodiles in cages instead of nipping at our heels, we might pick up a sloth, catch a bunny, feed the goats, and play with kittens.
But He who dwells in us, empowers us to consider the jungle.
He will not leave or forsake us.
He requires nothing but the faith by which we are justified.  Yet He stirs in me… bravery.  He who dwells here is a force that rumbles in the stormy night sky.  His name is Mercy.  His name is Justice.  His name is Grace.
He is for me, this family, and those who are just passing through.
He is most careful with us.
25-years ago if you'd ask me my plans I would have shown you the petting zoo.
25- years later if you ask me my plans I'd say… welcome to the jungle.
May your floors be sticky and your calling ordained.  Love, Jami
1 John 4:18 There is no fear in love. But perfect love drives out fear, because fear has to do with punishment. The one who fears is not made perfect in love.
Monkey footage….
You might also like: Go and Don't Beleive…
Great Memorial Day Weekend Special with ABC MOUSE!!! 50% off an entire year!!!!!  Check it out! Here!