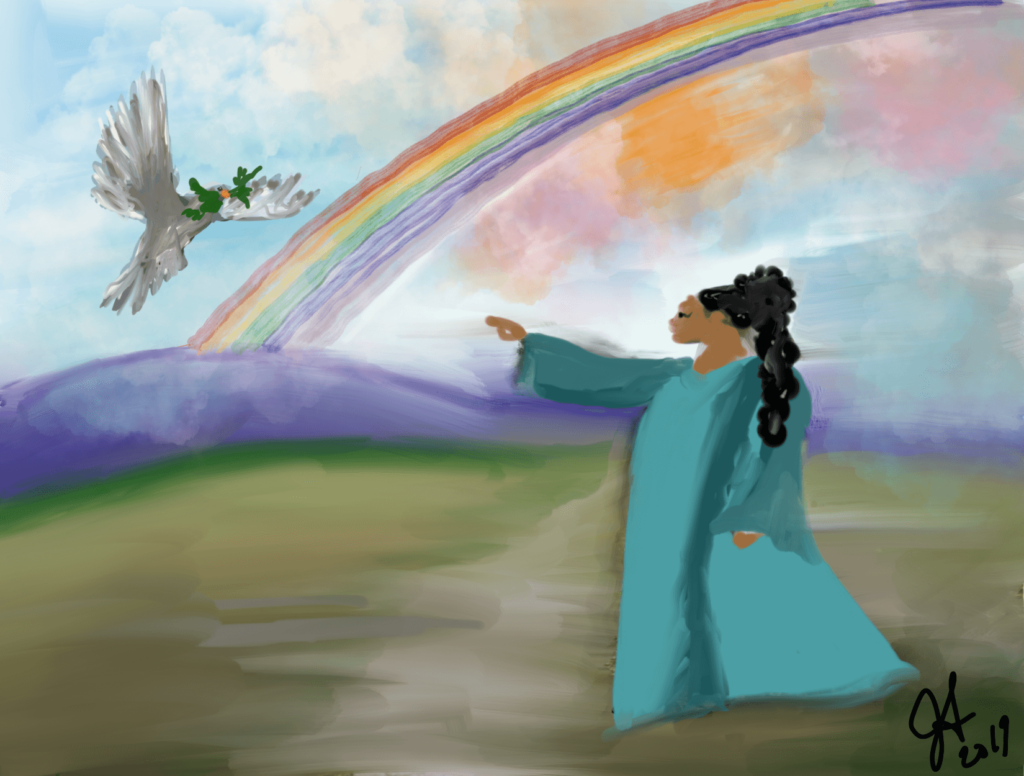 Consider This: Namaah, the Wife of Noah
Consider This: Namaah, the Wife of Noah
Namaah woke with a startle.
It took only seconds to reconnect with her dolorous existence. In a breath, the familiar companion of nausea ran circles around her. She would have vomited, again, but there was nothing left to purge. Her throat burned from the last episode. She squeezed her eyes shut, desperate to stabilize herself.
With her eyes closed, her nose was forced to stimulate. The putrid stench of her atmosphere was magnified. In fact, it was so intense, she could taste it. More like a nightmare, less like hope and promise, she held herself as still as she could, her surroundings swaying on the waves.
Waves.
Naamah, the wife of Noah, had no idea where they were. She had no understanding of what had become of their neighbors, their home, or the land where she raised her boys.
It was probably a million cubits away.
She had been obedient to her husband's visions. And, in turn, they had now, truly lost everything.
Namaah, nestled into the damp hay and tried to focus.
She was desperate to get off this monstrosity. Simultaneously, she felt all the pangs of defeat and loss. For a moment she remembered her now adult sons, as boys chasing through the garden or throwing rocks off the bluff behind their tent. Briefly, she imagined fresh meat roasting over an open flame.
It grew quickly, too much. So instead, she changed the scene to one yet to be experienced. A day with blue skies and barely a puff of wind. She ran the scenario through in her mind. It was uncanny, despite having never been out on the water, Naamah could nearly feel the sensation of the arc coming to an abrupt halt on a dry shore. A jolt and the cessation of the waves halting the buckling of the vessel to and fro.
This is what Namaah craved.
To be on the ground. Although she had no idea what life would look like after, she at least knew it would not look or feel like being trapped in the dank bowels of this dreaded wooden contraption. Here was misery. Surrounded by wild beasts, and two daringly grumpy daughters-in-law.
Actually, she was surprised they had stayed. Some days she was surprised she stayed. What with the madness of boat building, the threat of the wrath of God, and now this, adrift.
Everyone made light of the prophecy. Noah had become a laughingstock. The family had been ostracized and terrorized.
Funny, even in the truth of Noah's prediction, Namaah did not feel vindicated.
She felt seasick. And what was that? Seasickness?
All of it was foreign and overwhelming. Also, it was nauseating and she had some despicable bugs nibbling on her scalp. Someday, this outbreak would be called lice. And someday, there would be a medicated shampoo for such a predicament. Little did she fathom, the product needed to cure the nuisance would be available at all local CVS stores, and Walgreens… directly across the street from each other, on every single block within a 1500 cubit radius.
But today, there was only incessant scratching… and water pouring from the sky, roof, and seeping through the floor.
There was a jolt. But, it was simply the wield of the ship. A tear escaped Namaah's eye.
She wept in silence and murmured beneath her breath. "Please, when will it stop? When will you relieve us of this torture?"
In one moment she felt comfort in the one-sided conversation. Next, she felt guilt. Everyone had been destroyed in the flood. She shouldn't complain. And then, she felt dread. Dread for the night to turn into day and dread at the mere thought of another minute on this wild ride.
"Where is my help?"
Certainly, no one would write a word about her endurance. No one would make nursery school rhymes about her or decorate a newborn's nursery with clever figures, a nod to a woman who followed her man and his beasts, onto a boat.
Still, Namaah was there.
In a dreadful place. Scared, wet, tired, no real understanding of what her future would hold.
Naamah heard footsteps. She was too sick to open her eyes. However, she knew the routine. Noah would open the side hatch and send out a dove. So far, none had returned with any sign of life. She couldn't stand it. How would she make breakfast in this state? She shifted her weight, again, nausea engulfed her.
Hope deferred made her weary. She was prepared to hear Noah trudge down the corridor and report… nothing. Again she prayed, "when Lord?"
And in a flash, the mundane shifted. His footsteps were quick. And his voice brimmed with news.
Again, Namaah braced herself.
Would they crash into a mountain? Was there danger?
His voice grew louder.
"Come quickly! It is an olive branch! The dove returned! It's an olive branch!"
Naamah stood, one hand on her sour stomach, the other bracing her steps.
This was the day. Finally, today, He answered.
************************************************************************************************
Sometimes, I wonder how the Bible applies to my everyday blunders. More often than not, I stumble in my belief. In my book, Stolen Jesus, I encourage readers to take the one dimensional Christ from their coloring sheets and look at the multi-dimensional person who lived a common life as God of the Universe.
I have recently had encounters that have shaken my faith. Still, I believe, Jesus is near.
So, what about the other humans of the bible? Women who faced unbelievable heartache and loss? We do not hear of their struggle. And, to be honest, we aren't sure what they questioned. But I believe. And I choose to look at them as fully human. All aspects of life seem to repeat. The stories are not the same, but I stand by my understanding of humanity.
We all struggle.
And we all have a chance to repent, learn, and lean in.
He answers.
I don't know when, but I choose to believe.
May your floors be sticky and your camel be housebroken. Love, Jami
The righteous cry out, and the LORD hears them; he delivers them from all their troubles. Psalm 34:17
Check out our latest podcast!  And be sure and read Rebecca's post on Breast Cancer prevention.  You can find it here!
And really!  You have to check out our Patreon Page!  Support our podcast and get the goods too!
Jesus be all over you!  Jami