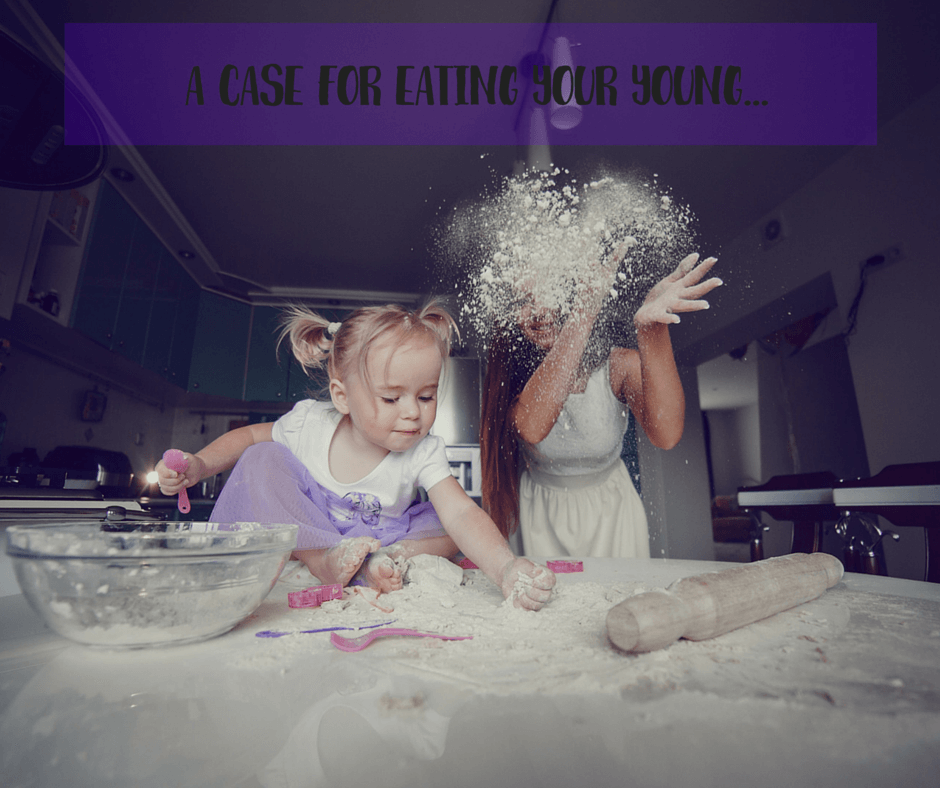 A Case for Eating Your Young…
I swear.
You can't really prepare for the irrational season of adolescence.
And I wanted to be a mom. I wanted a big family.
I am tired.
And here is the truth: I am not an awful mother. No, I am not the best mom ever, but I am not all bad. I have tried, and I tried hard. This is the truth, it is impossible to not fully embrace fault in the failures of your children.
This vocation which takes everything from you: Privacy, humility, dignity, firm and supple appendages and basic sanity are offered in the grandest sacrifice. In return, you are blessed with a hormone erratic, hateful, smart a**, with crooked teeth, B.O., acne, a unibrow and exponential orthodontia needs.
In our house, because we have teens and babies, the teens' awfulness if magnified.
The cuteness of the littles only further highlights the buttheaded-ness of the adolescents. Becuase I am in the middle of nearly every stage of parenting I am left to ponder where I went wrong with some seasons and the anxiety of what new fresh hell I may encounter in the next.
There is no telling.
And if there had been an exact recipe for success that I could type here and help you… I promise I would.
Here is where know-it-alls like myself have failed the lower classman moms. We are full of advice. We have a success in one aspect of parenting and that is the hat we put on – and it is obnoxious. Truly, the greatest gift I can give my readers seeking affirmation and direction is brutal, full frontal, honesty.
Parenting is hard because there is no way to prepare yourself for the agony and ecstasy of rearing a human being. Furthermore, what works with one kid does the opposite with the next.
And please, I beg you, go ahead and criticize me and I'll stand back and watch your world unravel.
Karma, Jesus, or the universe won't tolerate arrogance. If you think you could do a better job with one of mine, you are probably right. I will gather his/her things and have them waiting by the front door.
Best of luck my friend.
You can read about dealing with the strong-willed child, but until you are arguing with a cell phone an hour and a half past curfew you don't know the lengths which you will go to regain some form of control. I have taught my children lying is bad. I have entrusted them with privileges, privileges which they abuse and then loose. But I confess, when all else has failed I gained control and got a kid home by typing the words, "We are going to the emergency room, I am having chest pains…"
Oh yes, I did.
And the kid's argument was that I lied. Yep. But irrational and disobedient behavior calls for radical and desperate measures. I had been on my knees and prayed, I had begged, and bartered and it wasn't until I preyed on their fears that they would listen.
Which only seems fair, as I had been terrified for that child's well-being all night.
So, yes. There is an M.Ed. after my name. Yes, I have nearly $100,000 in student loans that bought those credentials. I have run the gamut. I have studied human development, I have read Dobson, Spock, and the Word of the Lord. And with each new day, a human in my care has pushed the envelope even further to challenge that which I would deem decent parenting.
With all I have invested in this, I have high hopes that on the other side of adolescence there will be a fruit produced that functions in society. A human that smells better, has some form of common sense, and sons and daughters of their own that pay them back for the irrational and exhausting season of their adolescence.
Heaven knows, that is why I am in the current situation I am in, "paying for my raisin'."
And I cannot recommend some of the lengths to which I have stooped. The heart attack theatrical tragedy will likely come back to be a wicked lesson in the mom who cried wolf. I try not to parent in such a deplorable fashion. I strive to do better. I crave wellness, physical and mental, for my children. I want them to live to an old age. I want them to be successful, serve the least of these, and find a peaceable existence.
Alas, this season is exhausting. And I am nothing if I am not transparent. So this morning – when I have been up half the night stressed and uncertain what will become of the teens and their weirdness I speak boldly with this piece of advice….
Eat them while their bones are still soft.
May your floors be sticky and your calling ordained. Love, Jami
You might also like:
Interested in writing??? Don't forget to check out Ladder to Rooftop! A FREE Writer's Guide to Effectively Proclaiming the Kingdom